Yet another classic Cajun dish from my Couzan, Billy.  It is similar to a stew or a thick soup and served with rice.
This one requires making a roux which is rather easy but takes a long time.  When making this roux, you must be dedicated to stirring constantly for about 20-30 minutes.  You need to use a good quality pan with a heavy bottom so as not to burn the roux.  Click this link for instructions on How To Make a Roux.
As in the Jambalaya, you can add any variety of meats or make it a seafood Gumbo by adding shellfish or other seafood.  If using seafood, add these at the very end and simmer for about 30 minutes.  This one includes chicken and sausage (andouille).
The recipe is directly below and below that is a step by step pictorial of making this classic dish:
3/4 cup Oil
3/4 cup Flour
4 Chicken thighs
1 pound Andouille sausage
2 medium Onion(s), chopped
4 stalks Celery
1/4 cup Garlic, finely minced
2 Bell pepper, red, chopped
4-5 cups Chicken stock
2 teaspoon Thyme
1 teaspoon Black pepper
1 teaspoon White pepper
1/2 teaspoon Cayenne pepper
4 Bay leaf(s)
Salt to taste
You can use any sausage you prefer. For the chicken please use thighs! They are dark meat which hold up much better to the prolonged cooking. You can use either bone-in thighs or boneless/skinless thighs.
Chop all veggies and meat.
Make the roux to a deep copper color or as Couzan Billy explained….."The color of a well-worn penny."
Turn off heat and add the chopped veggies to the roux.
In a separate pan, saute your meat in some butter or oil.
Add meat to the roux and veggie mixture.
Add chicken stock and spices and bring to rolling boil.
Simmer for at least another hour.
Retrieve and discard the chicken thigh bones (if used).
Serve over rice.
Serves 8 dinner portions or 16 appetizer portions.
Before making a roux, you must chop the veggies and meat.  Below is a pic of the what the Cajuns call the "trinity"…….onions, bell peppers and celery.  It is the foundation of most Cajun recipes.  I like to add some green onions as well.   These can all be chopped as opposed to minced or diced.  During cooking they will shrink in size.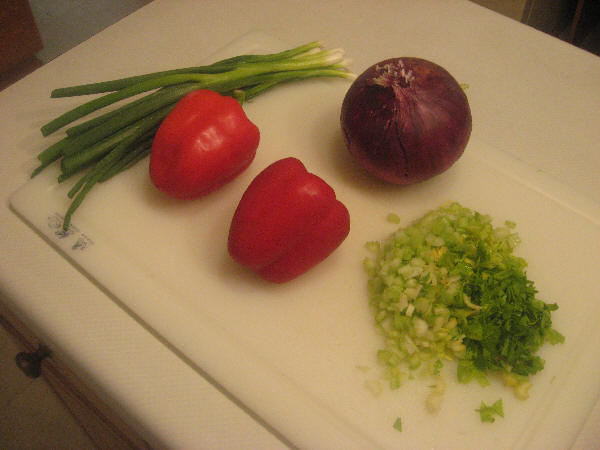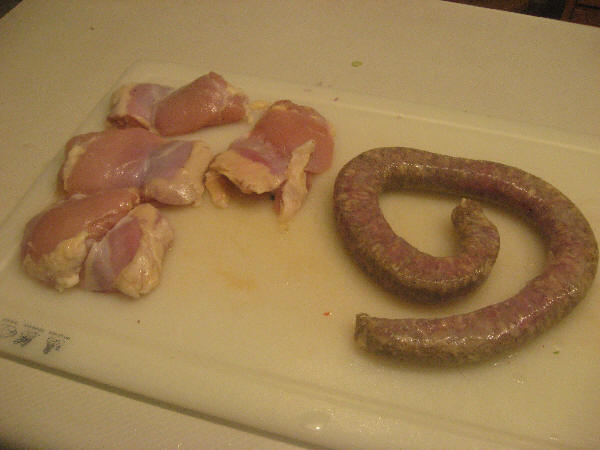 Once all the chopping is done it is time to make your roux.  The correct color is shown below.  To judge for yourself, just picture a well worn penny.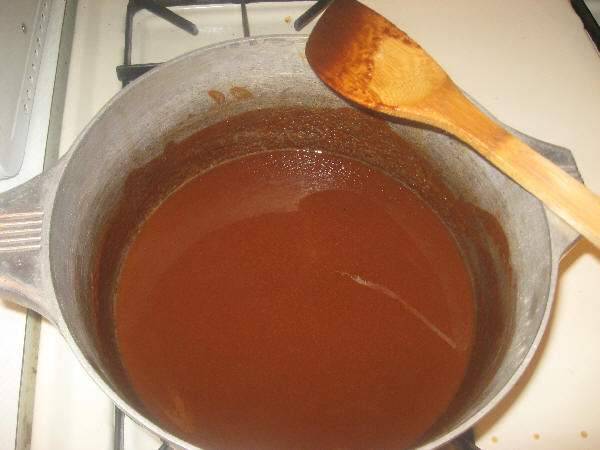 Once the roux is finished cooking, turn off the heat and add your chopped veggies to the pot and stir for several minutes to soften them.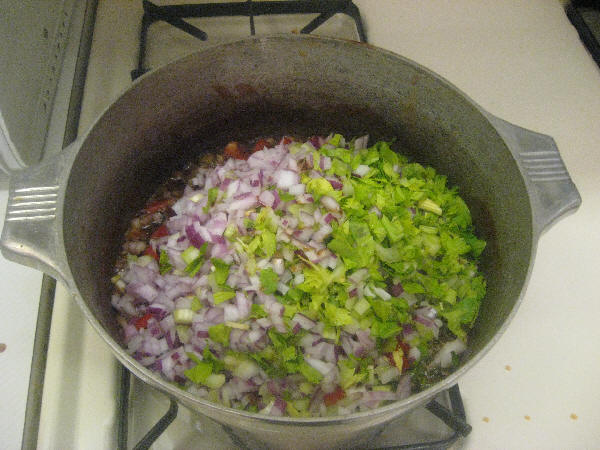 Now you can add your garlic and then your green onions.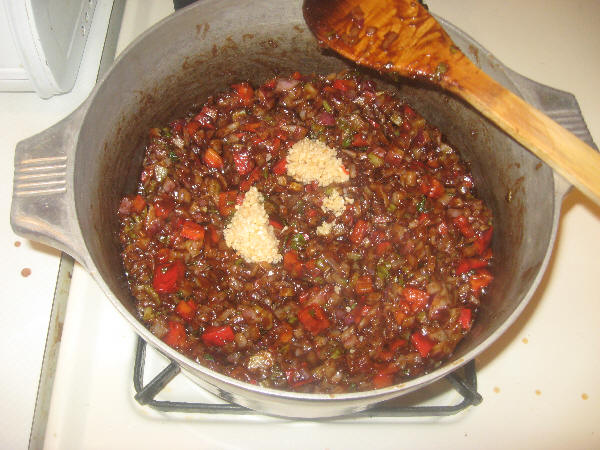 In  a separate pan, saute your meats in some butter or oil.  When done, add to the veggie/roux mixture.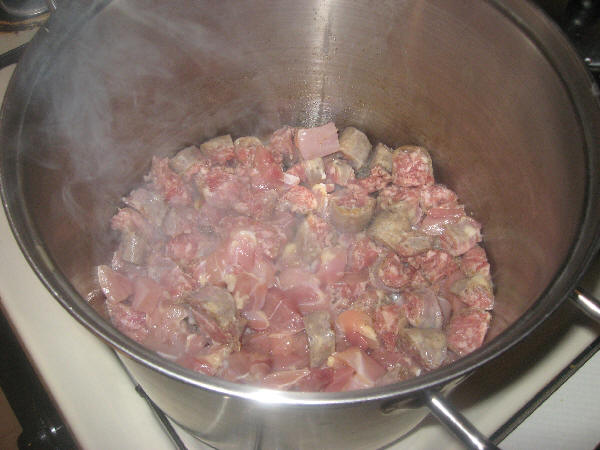 Now you can add all the other ingredients including the spices and chicken stock.  If you do not have any chicken stock you can make this with plain old water.  If you use water, you will need to add salt, so taste and add to your preference.  Bring this mixture to boil, reduce the heat and simmer for at least an hour, but longer will not hurt it.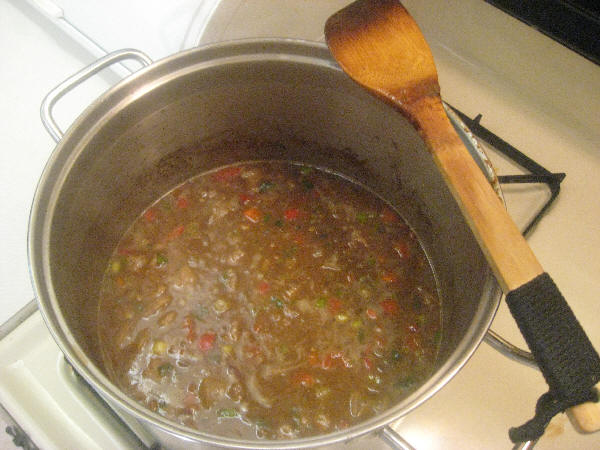 That's it!  You have just made a nice pot of gumbo!  Gumbo has the texture of a thick soup and should be served in a bowl.  It is served with rice, but the rice should not be added to the gumbo itself.  Instead, serve as below………….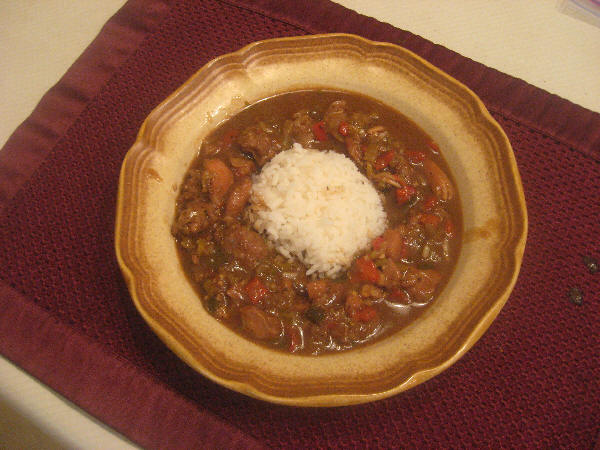 Gumbo freezes very well so, make lots and keep for the future!