Nona's Chicken Cacciatore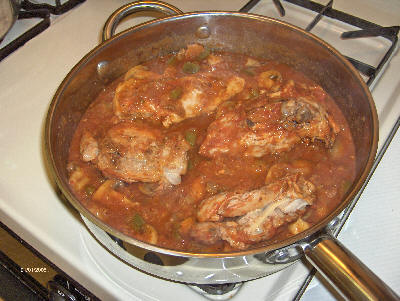 4 pound(s) Chicken piece(s)
1/2 cup(s) Flour
Salt and pepper to taste
5 tablespoon(s) Olive oil
4 small Onion(s)
1 clove Garlic, mashed
1 can Tomato(s), crushed
1 cup Mushrooms, fresh, chopped
1 large Green pepper, diced
Red wine for deglazing
Season chicken pieces with salt and pepper.
Heat oil in skillet. Dredge chicken pieces in flour and brown on all sides, about 10 minutes.
Remove chicken from skillet and deglaze with wine making sure to scrape the bottom.
Add onions, garlic, green peppers and tomatoes. Bring to simmer and add chicken pieces.
Cover and simmer for 40 minutes.
Add mushrooms and simmer another 15 minutes or until chicken is tender.
If desired, you can thicken the sauce with tomato paste.