Another traditional dish from Couzan Billy.  This was made on Monday's which was the typical day of doing the laundry.  While laundering, you just let this sit and simmer for the day.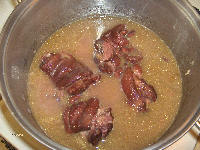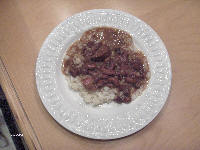 1 pound Dried beans
1 pound Andouille sausage or other smoked sausage
1 cup Onion(s), chopped
1/2 cup Green onion, minced
1 tablespoon Garlic
2 teaspoons Salt
2 teaspoons Crab boil
2 stalks Celery, minced
3 pounds Ham hocks, smoked
Soak beans overnight.
Brown the sausage, onions, garlic and celery.
Add remaining ingredients to stock pot. Add enough water to just cover.
Bring to boil and Simmer all day.
During the last 30 minutes, mash some of the beans until desired thickness is reached.
Spoon over rice to serve.