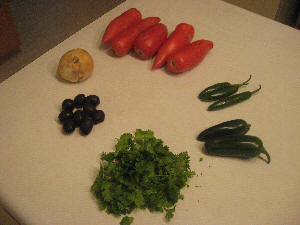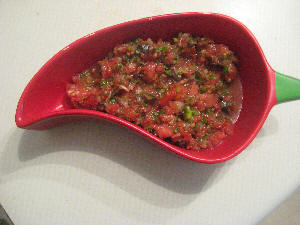 Salsa is a favorite come fall when the garden is finally in full production.  Other than the black olives, everything is grown in the garden.  Any combination of the following ingredients will do.  This is what has worked for us over the many years we have made this delicacy.  So, have at it!
5 Roma Tomatoes
2 Jalapeno pepper
3 Serrano chiles
1 small Onion, chopped
8 Black olives
1/4 cup Cilantro leave(s)
1 tablespoon Lime juice
1 teaspoon Salt
1 teaspoon Sugar
1 teaspoon Cumin powder
1/2 teaspoon Garlic powder
Using a hand-cranked salsa maker is the best way to make this.
If all you have is a food processor, add all ingredients and pulse several times.  Be careful about blending!!  If you overdo it, the olives will turn the entire mixture black.  That may work for a Goth party, but not your normal gathering.