This is more of a technique than a recipe.  It comes from Jumpin' Jim, who was the National Grand Champion Chicken Cooker in the Kansas City Barbecue Society,   He was kind enough to share this with the rest of the BBQ community.  I have modified it slightly for the general public.
INGREDIENTS
Start with chicken thighs, either whole (skin on, bone in) or boneless/skinless.  I personally like the convenience of the B/S.  Wholesale clubs sell these fresh, in large packs that contain around 24-26 pieces.  They are also sold frozen.  Trim any large deposits of fat.
In a large freezer zip-loc bag add up to 26 thighs and cover with Italian dressing.  Look for a dressing that contains the least amount of additives.  Refrigerate for several hours or even better, overnight.
Remove thighs from marinade.  Liberally apply chicken rub onto one side.   Follow this to my favorite chicken rub.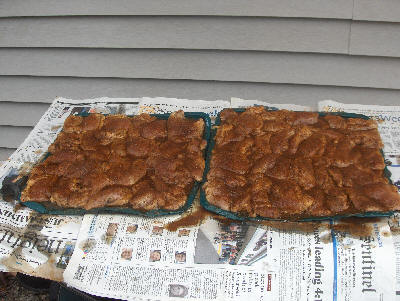 Turn grill to highest heat setting.  Cook until grill marks appear, approx. 7-10 minutes.  Flip and sear on opposite side for the same length of time.  The total cooking time will be around 10-15 minutes.  It is important to realize, the chicken at this point is NOT COOKED through.  So, NO sampling!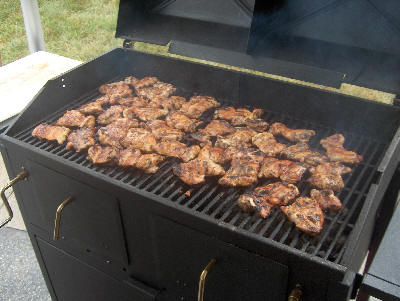 Once grilled, place in a foil pan.  Pour your favorite BBQ sauce on top of the thighs and loosely cover with foil.  This must now reach a simmering temperature.  I do this by putting them on my gas grill at about 300-350º.  Once simmering, let them cook for at least one hour.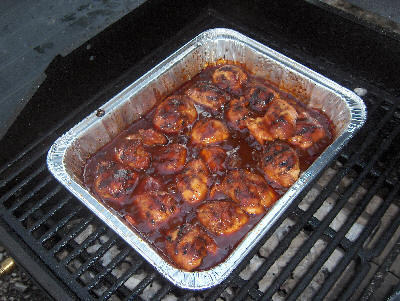 The above simmering can be done in any fashion you like…..oven, stovetop, slow cooker, etc.  This step finishes the cooking process of the chicken so make sure the contents reach a simmer.
OK, that's about it!  You will get rave reviews on this technique!
ADDITIONAL THOUGHTS
If you are using whole thighs, it is possible to place them back on the grill after simmering to sear one more time prior to serving.  If using B/S thighs, they will be so tender that they will fall apart with too much additional handling, so I serve right out of the foil pan.
This technique can be used with the broiler in your oven.  Sear under the broiler, then turn oven down to 300º to simmer.
The recipe uses a fairly large amount of BBQ sauce.  The meat in the pans should be about 1/2 – 3/4 covered with the sauce.  For an actual measurement, you can get by with about 30 ounces or so of sauce per 25 thighs.  This is an excellent way to test a new BBQ sauce!  If you want a recommendation for a quick and easy sauce, mix 40 ounces of Sweet Baby Rays (original recipe) with 6 ounces of pineapple juice.  Another easy one is KC Masterpiece mixed with apple juice in the same proportions as above.
These can be served any way you wish.  The thighs will shrink a bit so they will be small.  Because of this shrinkage I plan on about  1 ½ – 2 thighs per person depending on the make up of the guests.  You can also serve these as a sammich!  There is enough juice in the pans to add some on each sammich.