Here is a recipe I have made several times with very good results.  It is a great way to utilize the large 7-9 pound pieces of pork loin that most stores sell for really cheap.  Canadian bacon is very similar to ham but a bit more smokey.  After I have cured and smoked it, I fry mine in bacon grease to get some extra flavor.  What?  EVERYBODY saves bacon drippings, no?
Tender Quick is a curing agent that is made by Morton's.  It comes in a 2 lb. blue bag and can be found in the salt section of most large grocery stores.
The ingredients below are PER POUND!! So, if you have a 9 pound loin, you would use 9 TB TQ, 9 tsp sugar, etc.
7-9 pound Pork Loin
1 tablespoon Morton's Tender Quick
1 teaspoon Sugar
1 teaspoon Pork Rub
Cut your loin into 2-3 equal pieces.  The pic below are whole loins and can be done whole if you have the room.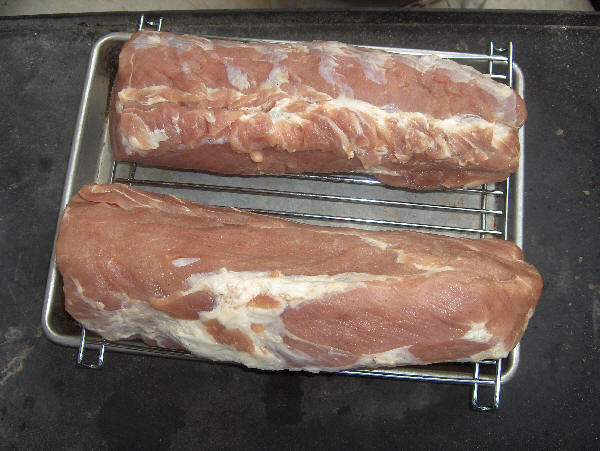 Apply evenly over the meat. Seal the meat in plastic zip-loc bags for 4 days, turning the bags over daily.
When ready to smoke, rinse in cold water for 30 minutes changing the water after 15 minutes. You need to do this to avoid the meat being too salty.
Smoke at 165-185º to an internal meat temp of 140-145º. This may take a few hours.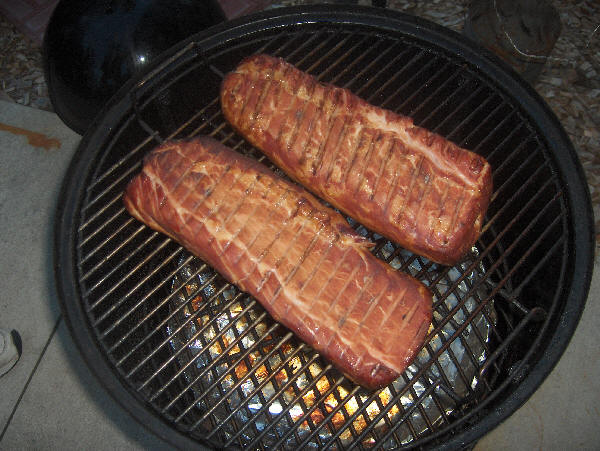 This stuff freezes very well.  I slice it up first and then seal in portion sized bags.
When ready to eat, just thaw and fry in either some butter or bacon grease.