Over the years I have done a fair amount of catering.  I started  this as a marketing tool when I was in the sales business.  You did enough biz with me, I would entertain up to 50 of your clients.  Now out of the sales business, I still offer catering for small gatherings.
Below are a couple events I have done over the years.  I don't have many pics as I just don't have time to snap photos when there are hungry people waiting for authentic BBQ!
If you head over to my BBQ Equipment page, you will see all of the "stuff" I use when cooking.  The first issue with catering is, How do I get all that stuff to the site?  The answer, rent a U-haul and pack it VERY efficiently!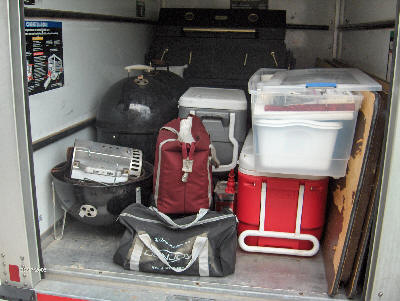 I got it all to fit into an 8′ X 6′ enclosed trailer.  Included in there are…….3, 8′ banquest tables, 2 WSM smokers, the giant Brinkman charcoal grill, the rugged Coleman propane stove for heating side dishes, several coolers with meats, sauces and of course beer to cool the cook!  It also includes every tool from tongs to gloves to firestarters and charcoal to 25 gallons of water for doing dishes!  You could drop me in the desert and I could cook a meal for 50 people……I don't need running water or electricity….COMPLETELY self-contained!
I have traveled thousands of miles in this rig and cooked all over the Midwest.  It truly is a labor of love!
SOME CATERING GIGS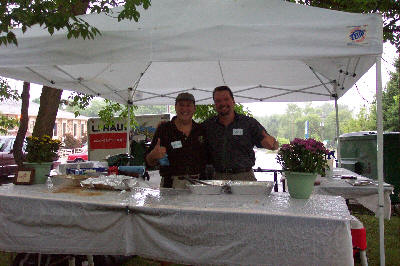 This is a catering job I did in Lansing, MI for my friend Steve Fricke (pictured)  and Brian Eiler and 50 of their investment clients.  The smokers and grills are behind us.  You can tell some of the office women were involved…..Flowers????
Below is a typical set up for catering.  This one was in Paducah, KY where I cooked for a bank and 50 of their guests.  It was over 95º that day and the bank had just laid fresh blacktop earlier in the week.  By time I was finished cooking, I had sunk up to my ankles in hot asphalt!!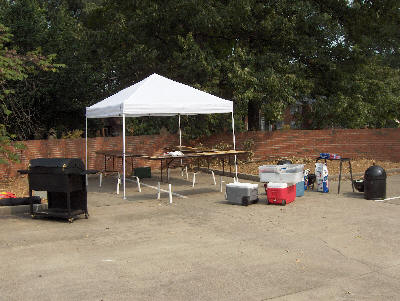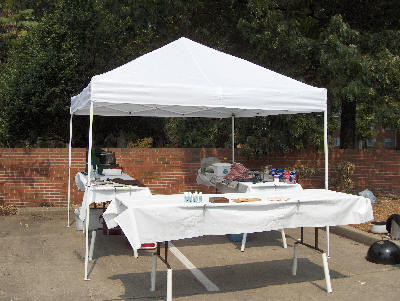 HIGH SCHOOL GRADUATION
As I mentioned earlier, I am hard pressed to feed about 50 people with the limited amount of equipment I have.  But, when it comes to your first child's High School Graduation, the sky's the limit!!
After attending numerous grad parties I really wanted to get away from the same old catered stuff……3 meats and 3 sides all served up by the local supermarket.
 I knew darn well what I was going to do!  I had lots of extra help….my Bro and his family, Eileen, Drew and Michael, were in town as was my Sis Julie, and Donnie and Sue and their son Jason.  So, despite the misgiving of my lovely wife Lynne, Ribs and Chicken and all the sides it was!!!  In all that day, we served well over 100 people and every last one of them got to taste the best ribs and chicken they ever ate!
Following is a short pictorial of that grand event.
It all starts with ribs!!  Lots of ribs!  20 slabs to be exact.  2 days prior to the event, we skinned and seasoned 'em.  Wrapped them in plastic wrap and let sit in the fridge overnight.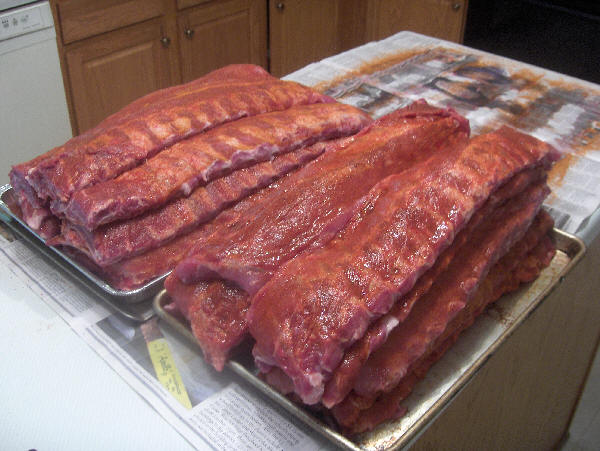 Most of the prep work and cooking had to be done under cover in the garage.  The weather was "unstable" and I didn't want to leave anything to chance.  Pictured below are nephew Michael, son Kurtis (with his best side showing!), Me, Brother Brad and cousin Jason.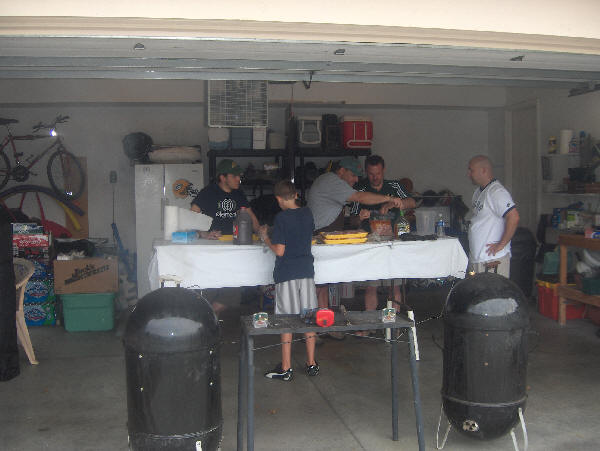 The day before the event, we had to trim and season our chicken.  Helping out with this chore was my son Kurtis, nephew Mike, Me and bro Brad.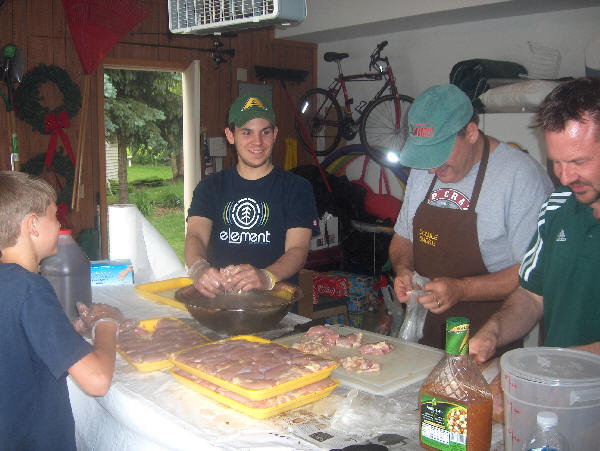 With temps expected to be in the 90's a tent was a must…..along with the usual assortment of slackers.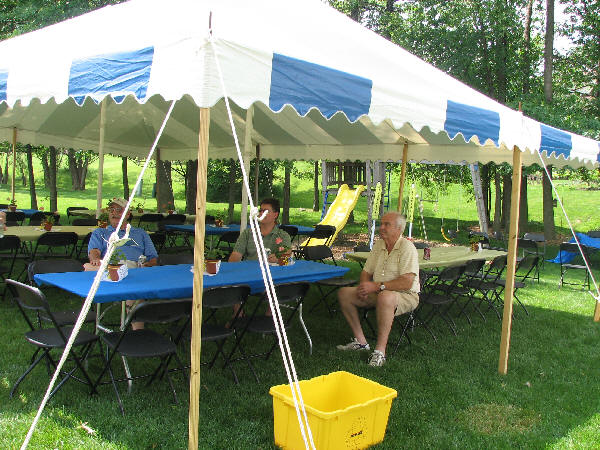 The day of the party all the cooking was done outside.  You can see our set-up below.  You will notice for this entire event we used 2 WSM's, a Weber gas grill and a large Brinkmann charcoal grill.  That is my other nephew Andrew, the tall dude in the middle.  Not sure what the heck he is doing here, but I'm sure it was critical to the success of the party!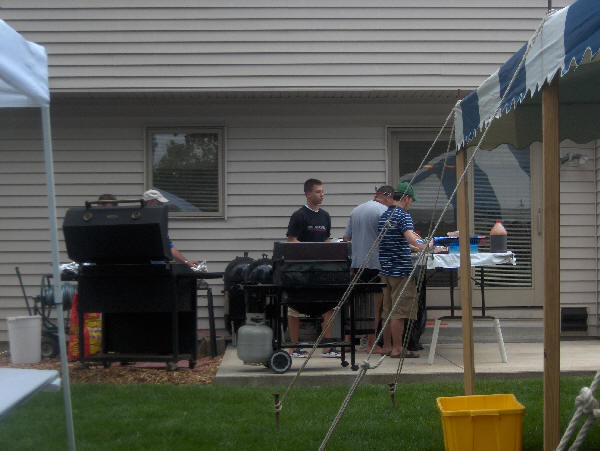 Since the ribs were partially cooked the day before the event, all we needed to do was reheat and finish the cooking process.  We did this on the gasser.  By the way, that is NOT cheating!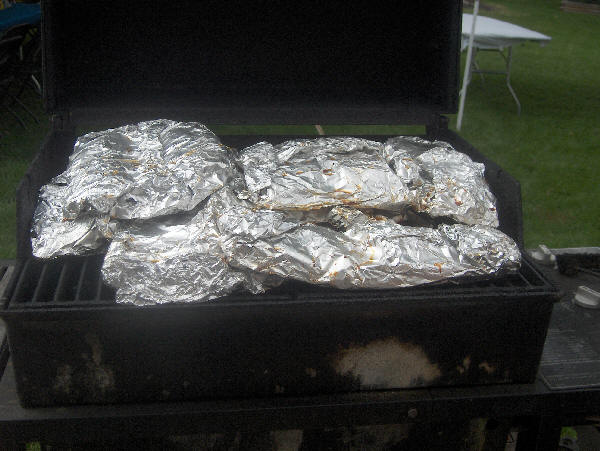 Once they were reheated, we then had to sauce 'em and let 'em finish cooking.  We did this on the charcoal grill (See, back to authentic BBQ!).  Notice how the meat has pulled back from the bones?  A sure sign of a rib that is done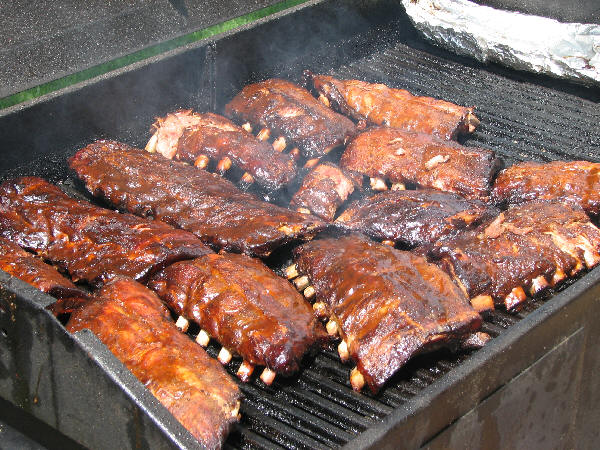 The chicken was taken out of the overnight marinade and seasoned.  Then grilled over high heat on the charcoal grill using all natural lump charcoal and finally simmered in sauce.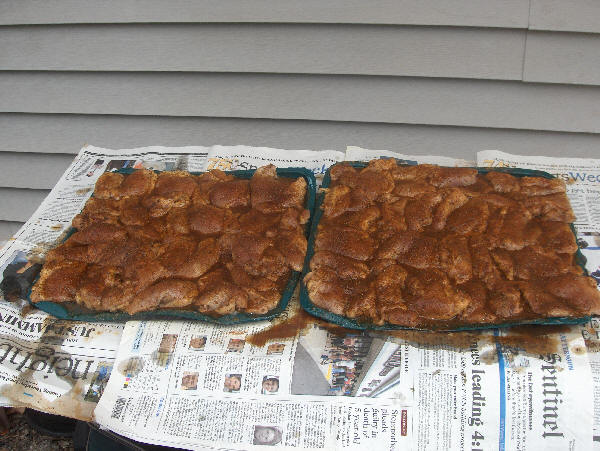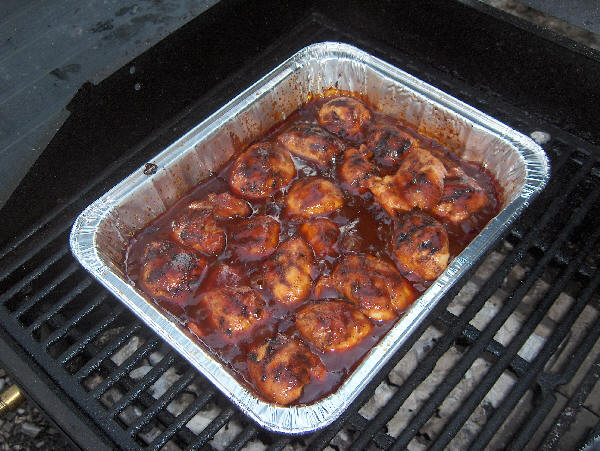 For serving all this great food, we used the EZ-UP and 2, 8′ banquet tables.  The food was kept warm with crockpots.  Hey, that is NOT cheating either!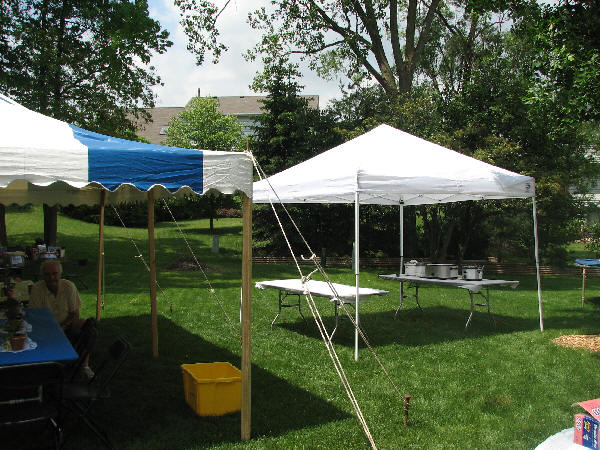 The heat was in the mid 90's so a large stash of cold drinks was available.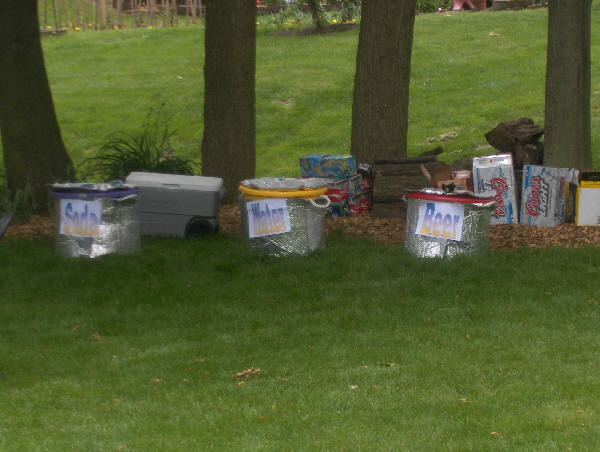 All in all a GREAT day!  Lots of work but so worth it!