The following technique will work in any cooking vessel that can maintain a steady temp for 6 hours.  This includes, charcoal grills, gas grills, electric smokers, even the oven.
First you will need to prep your ribs.  Mainly just rinsing them and skinning them.  Skinning?????  More correctly, removing the membrane that is found on the bone-side of ribs.  This is an optional step, but can make a difference in the tenderness of the rib.  Since the vast majority of folks love their ribs tender, I think it is a must!
SKINNING RIBS
Here is a freshly rinsed rack of ribs.  That shiny surface you see is actually the membrane that is attached to the bones.  This is what must be removed.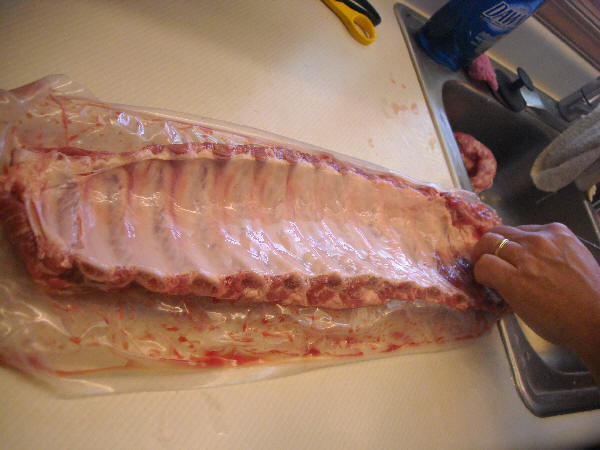 To remove, you will need a small piece of paper towel…..the skin is very slippery.  Then, working from the narrow end of the rack, use the towel to grip the skin.  This takes a bit of practice, but you really can't hurt anything so have at it!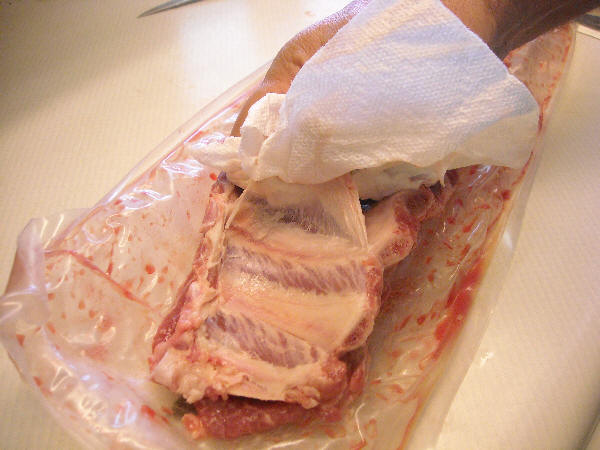 Once you have found the end, simply lift and remove.  The skin usually comes off in one large piece.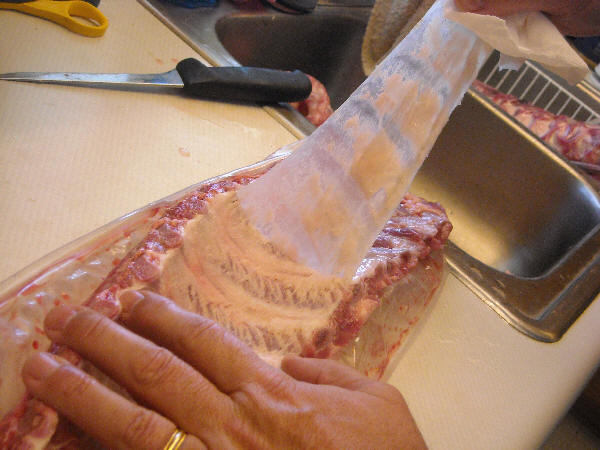 After removing the skin, your rack will no longer have that shiny appearance…………..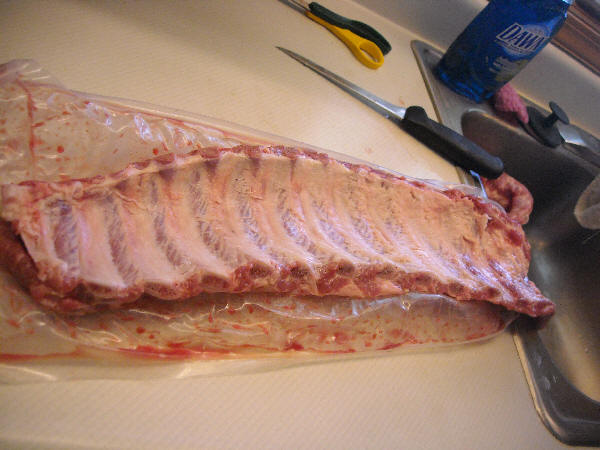 SEASONING
Next, apply your rub a few hours prior to putting the ribs on the smoker/grill/oven.  You can do this the night before as well.  Why a few hours?  You want to allow your rub to get inside the meat for that intense flavor.  To do this, you need salt and your spices.  The salt will initially allow the meat to squeeze out some of its moisture.  This moisture will then mix with your dry rub.  After about an hour, the meat will reabsorb this moisture and carry those wonderful flavors back inside….where they belong!   For some rub ideas check these out……. Rubs.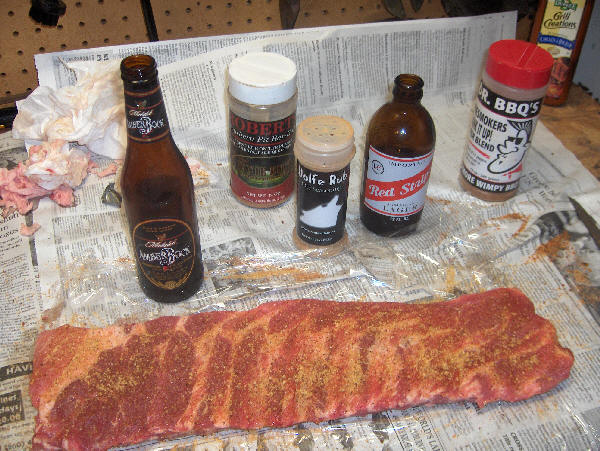 COOKING
Fire up your smoker/grill/oven and immediately put your ribs on.  Do NOT preheat, place them in as soon as you start heating.
Stabilize your temp at 250º at the GRATE level.  MOST important!   Measuring your temp in the hood of the appliance isn't much help….heat rises…..so be sure to measure the temp as close to the meat as possible.
Let cook, untouched, for 2 hours.  Then baste with your favorite mop.  I use 2 parts apple juice, 1 part oil and 1/2 part vinegar and I then add about 2 TBS of my rub.
Let cook for another hour…total time so far..3 hrs.  They should look something like this……….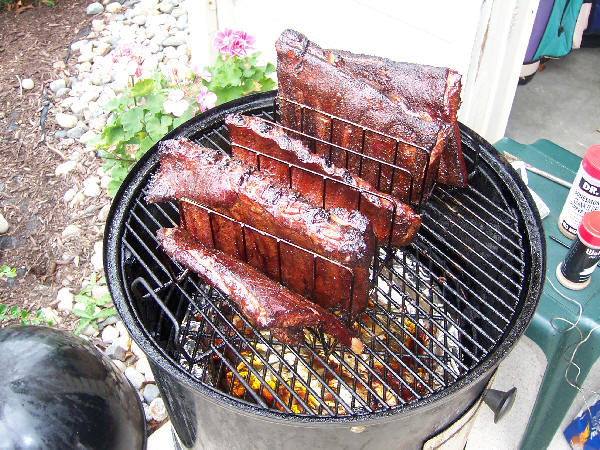 Lay out a large sheet of heavy duty foil…..Reynolds Heavy Duty is the only kind to use…..DON'T even think about trying to save money with another brand!
Place 1 rack of ribs, bone side down, on the foil………..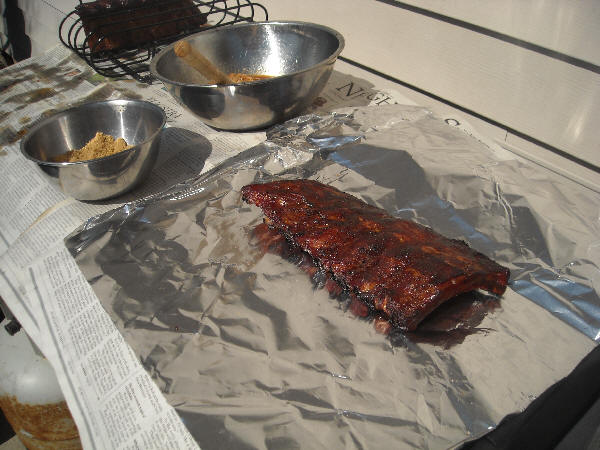 Mop again………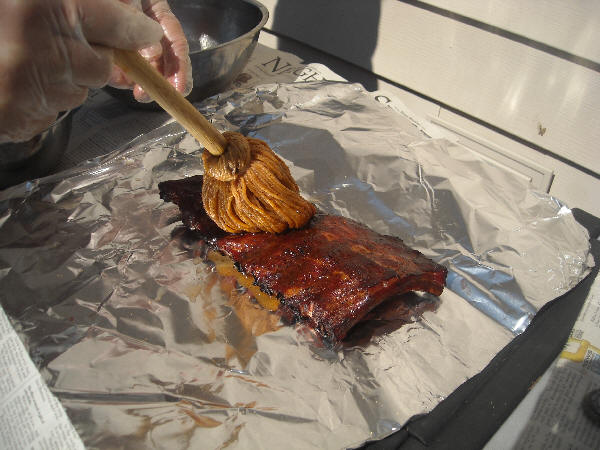 Then sprinkle some brown sugar on the top and wrap tightly.  Do this for each indivual slab.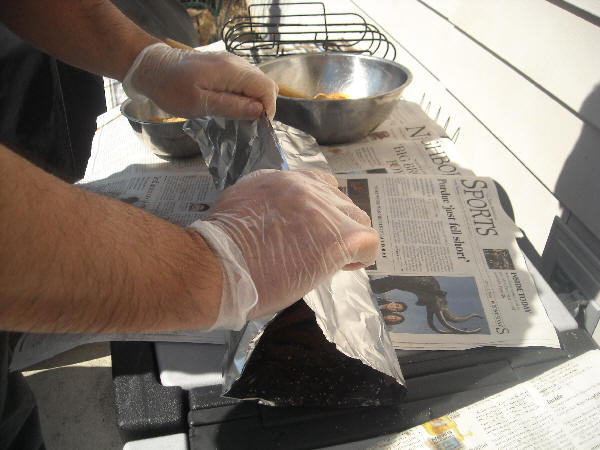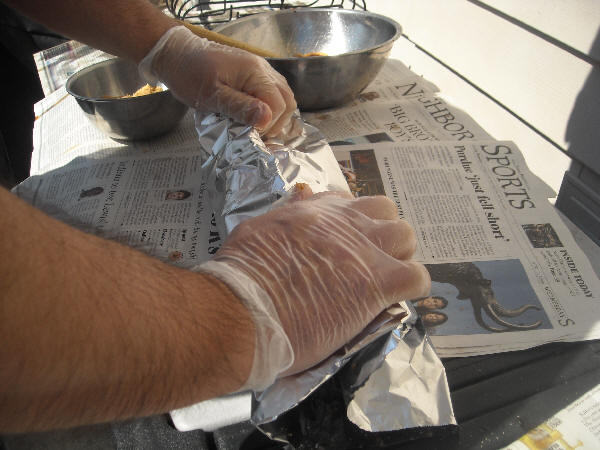 Place back in smoker/grill/oven making sure to keep the temp at 250º.  At this point, if space is limited, you can stack the foil pouches.  I have stacked as high as 3 pouches with no affect on the ribs.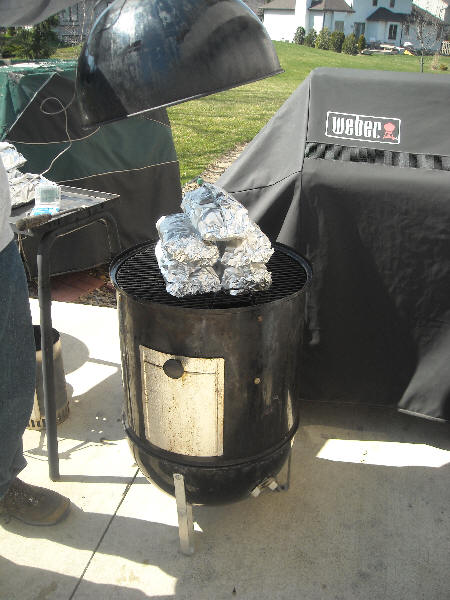 Let cook for 2 1/2 hrs. without touching anything.
Total time is now 5 1/2 hrs. and we will serve these in 30 minutes.  Unfoil them and apply whatever sauce you are using…if no sauce, then simply take them out of the foil.   Once they are all sauced or out of the foil without sauce, place back into the smoker/grill/oven, unfoiled, for the last 30 minutes.
Here is how to test a rack of ribs for doneness…………the meat will pull back from the ends of the bones.  Generally, the more the meat pulls away from the ends, the more tender the ribs will be.  You can also insert a toothpick or other probe between the bones.  If it goes through with little resistance the ribs are done.
VARIABLES
Cooking ribs is more art than science.  There are 2 very important variables…….TEMP and WEIGHT.
Temp MUST be maintained at 250º for the length of the cook.  It is OK to have temporary 10º swings, just be sure to bring it back to 250º.  DO NOT let your smoker/grill/oven get up to 250º without putting the ribs on (in other words, NO pre-heating).  Put them on immediately upon firing it up.  This entire process is all about timing and this is an essential step.
The weight of EACH rack of ribs is also important.  The above timing is for a rack of ribs that weighs between 2 1/4 – 2 1/2 lbs. EACH.  If you buy a rack of ribs that only weighs 1 – 1 1/2 lbs., they will cook much quicker.  It does NOT matter how many racks of ribs you are cooking.  The important part is the weight PER rack.
So, if you cook at a higher temp OR if your rack of ribs weighs less than 2 1/4 lbs., you can expect them to cook quicker.  A little experimentation and precise note taking is a must.
There you have it!  Proven over the years to be a real winner.  As I mentioned above, BBQing is more art than science so experiment and have some fun!